The Toyota RAV4 has built its strong reputation on being one of Canada's best-selling vehicles and one of the nation's top five sellers in the first quarter of 2019.
One reason for its popularity among Canadian drivers is the fact RAV4 vehicles possess strong, versatile interiors to make driving comfortable. On May 9, the Toyota RAV4 received a 2019 Wards 10 Best Interior Award from a list of 32 new vehicles eligible for this year's competition. When you see what the RAV4 interior includes, you can understand why it's been met with such accolades in the automotive industry.
What is the Wards 10 Best Interiors Award?
This annual award, now in its ninth year, recognizes outstanding achievement in interior features, including aesthetics, comfort, ergonomics, material usage, user-friendliness of displays and controls, as well as fit-and-finish.
These interiors are selected by Wards editors based in the Michigan town of Southfield. There are 10 winners selected from the list mentioned above of 32, with all-new or significantly improved cabins. There is no price cap during selection, but value does play a role. This year's winners, including the RAV4's award-winning interior, were highlighted especially for their speaker grilles as well as multi-colour ambient lighting.
Winners of the award were honoured at a special ceremony during the WardsAuto Interiors Conference in Novi, Michigan. Interested guests got a chance to jump in the 2019 Toyota RAV4 and other winners to interact with the award-winning interiors.
Why Do RAV4 Interiors Stand Out? 
The 2019 Toyota RAV4 won Wards 10 Best Interiors in part because of its state-of-the-art technology and eye-catching aesthetics.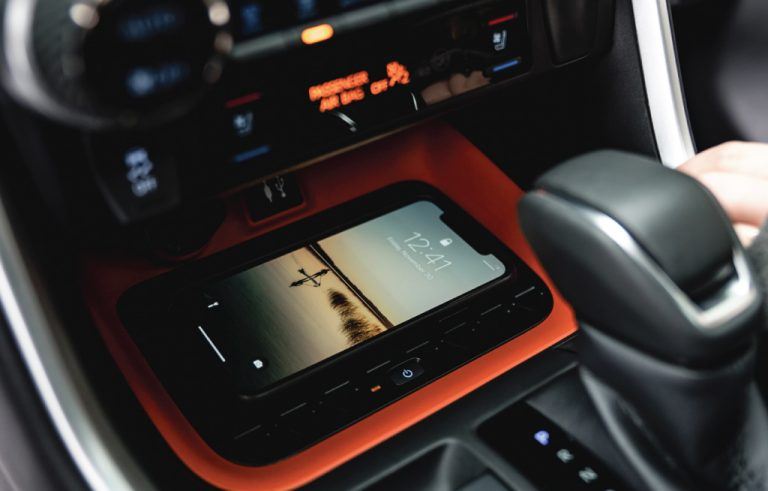 Charging
For one, RAV4 interiors come with charging ports below the centre armrest, along with a storage tray trimmed with a starburst pattern. If you're charging your wireless phone, you can place your phone on a pad in the centre console, so it charges properly and easily.
Music
If you like to drive with music on, but don't want to work too hard to navigate the entertainment system, you won't have to worry. The 2019 Toyota RAV4 has hard buttons on either side of the main display screen, which allows for easy access to the system.
Trim and Seats 
The interior has angular, shapely trim, which makes the instrument panel and door more attractive. Plus, the liner above the glovebox is chocolate-coloured and textured, while the speaker grates boast a starburst pattern. The design is cohesive, interesting, and high-end.
You'll find a satin metallic trim surrounding the centre console in front as well as the heating, ventilation, and air conditioning (HVAC) controls. Knobs are textured too so that you have the firmest grip possible on climate controls, a necessity given how extreme Canadian weather can be on both sides of the zero-degree mark.
Seats are made of comfortable, SofTex synthetic leather on the front and rear seats. The front seats are also perforated, heated, and ventilated. Rear outboard seats are heated as well.
Functions
Furthermore, there is a suite of driver-assistance systems as a part of a substantial Advanced Tech package to make every driver as safe as possible. Touchscreen integration is the highlight of its premium audio system.
Design
Wards 10 Best Interiors judges were captivated by the fact that such a high-volume model could be so efficient with its designs. Its geometric shapes, contrasting colours, and convenient comfort levels made the 2019 Toyota RAV4 an attractive option to the judging panel.
A mix of light and dark grey awaits when you open the door, and the neutral palette can be seen throughout the instrument panels, seats, and doors. A mocha-coloured trim is also used as an accent on bezels of features, such as the front cup holders and the charging tray. Mocha-accent stitching can also be found on the IP. Interesting trapezoid elements are on instrument panel vents as well as the door handle surround.
One judge stated that the front-row door handles reminded him of when a falcon is ready to strike, making this award-winning interior a high-flying display. Wards 10 Best Interiors is a well-deserved industry award for the adventurous interior of the 2019 Toyota RAV4. In testing the Limited Hybrid, they also found features like the soft-touch, two-tier instrument panel and USB ports to be attractive interior aspects.
Though the RAV4 is rugged on the outside, the inside is fully refined thanks to its adjustable and harmonious layout.